What it is and isn't
The Kansas Anthropological Association (KAA) oversees an in-house Certification Program for its non-professional members. It is a comprehensive program that guides the amateur archeologist in personal study and achievement.
There are seven categories of certification, each requiring some formal classes, usually offered during field school, and other requirements specific to each category. The seven categories are: Basic Surveyor, Advanced Surveyor, Basic Crew Member, Advanced Crew Member, Basic Lab Technician, Advanced Lab Technician, and Outreach Specialist.
Certification candidates may work on several areas simultaneously, however. 40 to 80 hours spent on task (supervised by Kansas State Historical Society [ KSHS] personnel), several formal classes, and other projects are required for each category. Specific requirements are delineated in a Certification Notebook, which is received when a KAA member enrolls in the program for a one-time fee of $10. Completion of each requirement is verified by the signature of a KSHS archeologist. When all requirements for a category have been signed, copies of the completed record pages are given to the Certification Chair, who prepares a recognition document.
Classes are offered at the June field school (Kansas Archeology Training Program) for no charge beyond the KATP registration fee. In addition to credit for KAA Certification, college credit is available for most classes offered at field school (subject to tuition costs) through Emporia State University. Beginning in 2005, KAA has also offered a winter certification seminar. KAAA often requests a small fee, usually $10 to $15, for these two-day classes to pay for classroom rental and to reimburse the instructor for expenses. A slate of eight core classes is offered in rotation, and an interesting array of 20 or more elective courses supplement them. The winter seminar is especially popular because many have responsibilities at field school, which preclude them from taking classes in June.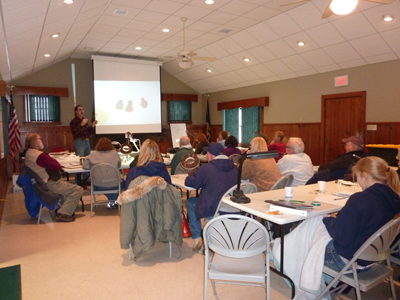 Two evening meetings are held during KATP to answer questions about certification, to allow new members to inspect the certification materials and for them to consider enrollment. The KSHS Public Archeologist Virginia Wulfkuhle and Kansas State Archeologist Robert Hoard assist the KAA Certification Committee in fielding questions at these meetings. At other times of the year, interested persons should contact the Certification Chair to ask questions or to enroll.
Certification is an excellent program for guiding the learning experience and measuring one's achievements in archeology, as well as a personal record of one's experiences. Completing areas of the program is an indication of competence and knowledge but is not construed as a license to excavate. Professional archeologists do take this experience into account, however, when assigning leadership roles and major responsibilities at the annual field school or when hiring crew members in contract work.
Certification Chair
Al Petz 819 Bannock Burn Hutchinson KS 67502 email: allenpetz@sbcglobal.net 620-899-6981
President
Nancy Arendt 665 Cherokee Dr Colby KS 67701 email: arendts@st-tel.net 785-443-2568